Our Doctors at Bradlee Dental Care

Daniel F. Babiec, DMD, MAGD, FICOI
Dr. Babiec earned his dental degree from Tufts University School of Dental Medicine, after earning his bachelor's degree from Boston University.
Dr. Babiec's postgraduate education courses have emphasized the topics of orthodontics and the structural basis of dentistry relating to body dynamics. You may have seen his TV7 interview on DIAGNOdent™. He has been Nova Living's top dentist on two occasions, and won the Alexandria Top Dentist award in 2009-2013. He was honored in 2013 by the American Academy of Cosmetic Dentistry's foundation for participating in their "Give Back A Smile" program for restoring the smile of a battered woman.
After over 2,000 hours of continuing education, he is been tested and recognized as a Master of the  Academy of General Dentistry, as well as a Fellow of the International Congress of Oral Implantologists.
He is recognized by the North American Association of Facial Orthotropics as being certified in Orthotropics® therapy.
He completed and is recognized as a Diplomate of the American Sleep and Breathing Academy, one of the foremost, multi-disciplinary academies for sleep problems.
Dr. Babiec has had several papers published in the referred literature and will shortly have an article on the connection of temporo-mandibular facial pain and sleep problems, published in General Dentistry, the official journal of the Academy of General Dentistry.
Dr. Babiec and his wife, Debra, have three beautiful children, and they are constantly traveling, supporting the collegiate rowing races of their three children. Dr. Babiec also enjoys woodworking and sports photography in his spare time.
---
Jung Min Oh, DMD, MS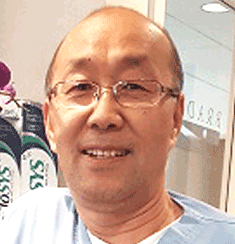 Dr. Oh earned his dental degree from Tufts University of Dental Medicine. He was born in Seoul, Korea and came to the United States to study computer engineering where he earned his Master's Degree from University of Southern California.
Dr. Oh was a general dentist for sixteen years in Boston before relocating to Virginia. He and his wife, Miwon, currently reside in Alexandria with their two sons. He enjoys playing golf in his spare time. Dr. Oh also loves cooking Korean food!
---
닥터 오는 서울 출신으로 남가주 대학(USC)에서 컴퓨터 공학 석사를 마치고 보스톤에 위치한 터프츠(Tufts) 대학에서 치의학 박사 학위를 받았습니다.
보스톤에서 16년동안 일반 치과의사로 진료한 후 버지니아로 이주하여 현재는 아내와 두 아들과 함께 알렉산드리아에 거주하고 있습니다. 여가 시간에는 골프와 한국 음식 만들기를 좋아하고 관심이 있습니다.
BRADLEE DENTAL CARE
Daniel F. Babiec, DMD, MAGD, FICOI
Jung Min Oh, DMD, MS
3543 West Braddock Road
Suite E2, 5th Floor
Alexandria, VA 22302
Call us at (703) 820-0809 tel info@bradleedentalcare.com
Office Hours
Monday 7:30 am - 4 pm
Tuesday 7:30 am - 7 pm
Wednesday 7:30 am - 5 pm
Thursday 7:30 am - 6 pm
Friday 7 am - 2 pm
Thank you for visiting Bradlee Dental Care!